Auto Tech Career Reality Check, the Theme of OCM BOCES/Syracuse Auto Dealers Association Symposium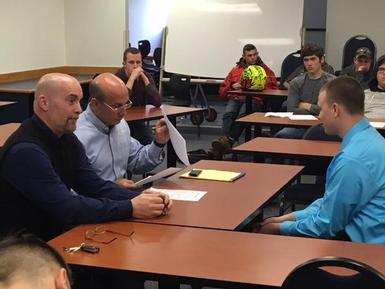 Students from the two Henry Campus/Thompson Road-based Automotive Technology classes, as well as from OCM BOCES Auto Tech class embedded into Driver's Village, recently enjoyed a morning of candid conversation with representative members of the Syracuse Auto Dealers Association (SADA). The real-world discourse was part of an OCM BOCES/SADA symposium aimed at communicating the value of learning and embracing 21st Century employability skills related to the automotive repair industry.

Topics in the May 11th session focused on opportunities for entry-level technicians, employee pay rates and benefits, self-discipline with regard to cell phone use, and the importance of considering on an area of career specialization, such as automotive electronics. Students asked a wide variety of employment questions ranging from the differences between independent repair shops and dealership organizations, to the typical length of a probationary term and whether or not one's facebook page can come under scrutiny when he/she is seeking an auto tech position.

A highlight of the morning was a mock interview during which SADA-member managers demonstrated techniques by which they hire technicians and service personnel. Prior to the event, students completed resumes and employment applications, so they could share them with the SADA team. Plans call for the documentation to be uploaded to a SADA website for member organizations' human resources department perusal.

Pictured above: Devin Sullivan, an Automotive Technology student from Mr. Chase's OCM BOCES class fields questions from Rick Rosen of University Chrysler, Dodge, Jeep, and Ram, as well as from Tony Bataglia with Jack McNerney Chevrolet.

The North Syracuse School District senior is planning to gain experience in a Syracuse-area auto service shop or dealership, as he also considers continuing his education in a college automotive major.