Inspired by world-renowned chef, Innovation Tech students prepare cultural food

After wor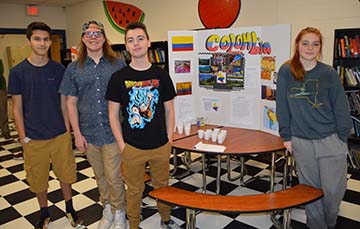 king with the producers of CNN's hit television show, "Anthony Bourdain: Parts Unknown," students at Innovation Tech in Liverpool researched traditional foods in Spanish-speaking countries and created their own recipes to cook up, serve and eat.
Students offered bite-sized portions of their efforts during presentations March 10th that covered nearly table in the cafeteria of their high school off Crown Road. The students made omelettes, enchiladas, sandwiches, plantains, lemon crème, cake and empanadas.
In April, the students will take a field trip to New York City to visit the CNN studios in person. That real-world connection is a hallmark of the academic philosophy at Innovation Tech, an alternative high school administered through the Onondaga-Cortland-Madison Board of Cooperative Services, or OCM BOCES.
Alanna Matson, a Spanish facilitator at the school, contacted a friend and marketing representative at CNN, who hooked up students to producer Toby Oppenheimer through Skype.
"They were actually flattered and complimented that we liked the show," Matson said.
In the show, world-renowned chef and best-selling author Anthony Bourdain travels the globe to uncover little-known, off-the-road destinations and diverse cultures. The show has won multiple Emmys and a Peabody award.
Through Skype, Oppenheimer told the students about the vast behind-the-scenes research and planning that precedes every show. He also explained how many of those plans are tossed out the window as circumstances change unexpectedly for Bourdain and his crew.
On March 10th, students at Innovation Tech put out samples of their food for classmates and guests and set up tri-fold posters with descriptions of their chosen countries, background on the food, recipes, photos and nutritional labels, which they had to calculate on their own. The project combined two classes: health, which is facilitated by Vinny Smith, and Spanish, facilitated by Matson. The class ended with students earning a college credit in wellness through Onondaga Community College.

In the photos: Above (left to right): Angel Aguilar, Ed Homer, Corey Wright and Kiara Holmes present a Columbian tortilla with eggs, bacon, potatoes and cheese, a traditional food and mainstay of that country in the 1960s.

Below, first row, left to right:
Quinn Rivera, pictured, worked with classmate Kelli Thomas on a traditional Cuban chicken sandwich with pickles.
Jeremiah Personeus, pictured, worked with Jayla Szlamczynkski to make a special empanada from Puerto Rico.
Hudson Giangiobbe made a lemon crème from Spain with a yogurt-like consistency.

Second row, left to right:
Thomas Mason cooked up a marinated chicken dish with soy sauce and garlic powder from Peru. It was called polloalabrasa.
Sam DiBernardo presents fried plantains from the Dominican Republic, some topped with cinnamon and sugar.
William Moore III, second from left, and Cheyenne MacDonald present a three-milk cake, "Tres Leches," from Costa Rica made from half-and-half, condensed and evaporated milk. The recipe called for a complicated, multi-step process. Sam DiBernardo, far left, enjoys a sample.